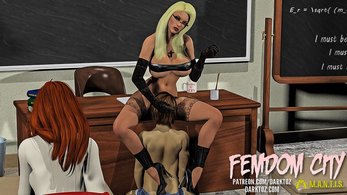 Type: Video Game
Genre: Bondage, Mind Break, Submissive, Mature Women,  Gangbang, Futanari
Language: English
File Size: 420 MB
Click here if your game isn't working
Femdom City is a fictional place run by an autocratic government, where women are superior to the inferior males. Males in this place look a bit smaller than usual and have less muscles. Their job is to help restore the partly destroyed city. They usually have to take on jobs that serve women, in order to be able to pay the higher taxes for males.
Most of them can't even remember how they got to Femdom City. It seems like most of them can't remember anything of the riots or their life before. You are one of these males, trying to survive in this city that is so hostile towards you that every day is a challenge. How did it get this far? Was Femdom City always the place that it is now? Will you manage to escape the city or will you find a mistress that will treat you right? Will you uncover the secret places of Femdom City and maybe manage to make a rather decent living as a submissive male / slave?
This game is in a very early stage, but there is already a lot of content to enjoy. Please support DARKTOZ if you like what you see and help make Femdom City M.A.N.T.I.S. the biggest Femdom themed game ever made!