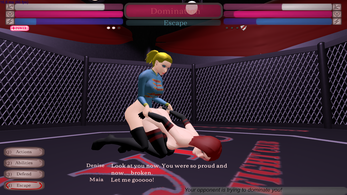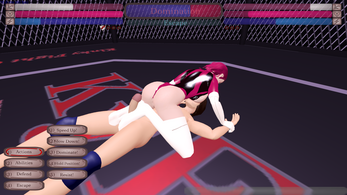 Type: Video Game
Genre: Mixed Wrestling, Battle fuck, Futanari, Strap-on, Yuri
Language: English
File Size: 200 MB
Click here if your game isn't working
Kinky Fight Club is an early access wrestling game that has a lot of promise. The interface and controls could use some work… but if you can get past that, there is a lot of great content to be seen. Instead of regular combat, we're blessed with something even better! You use foreplay and sex movements to make your opponent haven an orgasm before you do!
As of now, the story mode is not available. There is an arcade mode, which is basically a tournament with increased difficulty, or you can play versus battle. You have the option to create your own characters with certain attributes, or you can play with a variety of preset characters. Before you start playing though, I recommend checking out the settings page. There is a lot of stuff you can customize to your liking.
If you enjoyed playing and would like to see even more, consider supporting the developer on Patreon. Like most indie game developers, he does this on his free time. With your support, he could release this game on a much faster pace! If you'd like to know more, check out his FAQ page.
Updated links! (08c patreon version)